Flowable Engage User Guide
This user guide explains the concepts and features of Flowable Engage.
What is Flowable Engage?​
Flowable Engage is a powerful communication and collaboration solution that helps you engage with customers, citizens, or colleagues, backed by Case and Process Management.
Flowable Engage is not only a chat solution to support and augment client conversations, and it is built on top of the trusted and highly scalable Flowable Work, which provides the engines for driving chatbot models defined with the open standards BPMN, CMMN, and DMN.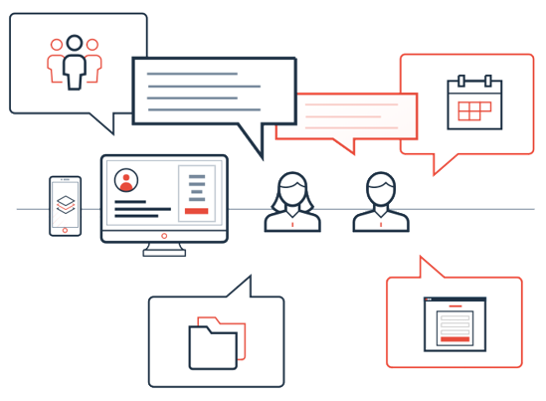 Flowable Engage supports individual and group-oriented cooperation backed by systems and services like:
Real-time messaging platform with state-of-the-art chat functionality.

Multimedia conversation features and integrated document management.

Fine-grained role and access security setup for sophisticated enterprise setups.

Compliance through auditing of all conversation data paired with extensive search and analysis capabilities.

Built-in chatbot functionality to facilitate capturing information and instructions in a conversation.

Intelligent notification services and extensible chatbot framework.

Case and process models describing chatbot interactions blending business processes with conversations.

Integration of third-party messengers such as WhatsApp and WeChat.
Platforms​
Flowable Engage is primarily used as a web application through a web browser. The web application can also be integrated into other web applications such as websites, e-banking portals, and much more. Additionally, it is available as a standalone mobile application for both Android and iOS devices.
The software (web and mobile application) also allows for integration with popular chat services. This enables customer engagement on the customer's preferred channels and at the same time provides you with the entire Flowable Engage functionality.
It is common to use the web application as well as the mobile application internally as well as offer both to external participants such as potential leads, customers, or partners.
note
The descriptions found in this User Guide are based on the web application.
Prerequisites​
The web application can be used with any modern browser:
| Browser | Version |
| --- | --- |
| Google Chrome | 69.0 and later |
| Microsoft Internet Explorer | 11 and later |
| Mozilla Firefox | 63 and later |
| Apple Safari | 11.1 and later |
A native mobile application of Flowable Engage is available for both Android and iOS devices.